Legal Disclaimer
WEBSITE TERMS AND CONDITIONS
Information on this web site
Advanced Power takes all reasonable efforts to update the information contained on this web site. However, Advanced Power makes no representations, warranties or undertakings about any of the information, content or materials provided through this web site (including, without limitation, any as to quality, accuracy, completeness or reliability). Advanced Power reserves the right to make changes and corrections at any time, without notice. Advanced Power is not responsible for the content or use made of any other website, including any website referred to or any website through which you may have gained access to this website or to which you may gain access from this website. Inclusion of any linked web site does not imply Advanced Power's approval or endorsement of the linked web site. Advanced Power does not accept any liability in connection with any such web sites or links. No information contained on this web site constitutes or shall be deemed to constitute an invitation to invest in Advanced Power.
Liability
Advanced Power accepts no liability for any inaccuracies or omissions on this web site. Any decisions based on information contained in Advanced Power's web site are the visitor's sole responsibility. Advanced Power excludes any liability (including without limitation liability for negligence or any damages of any kind) for the content of this web site or any downloads from it to the maximum extent permitted by law.
Information on the ownership of the copyright and trademark of our web site
You are responsible for obeying all applicable copyright laws. We permit you to make copies of this website's information as necessary incidental acts during your viewing of it.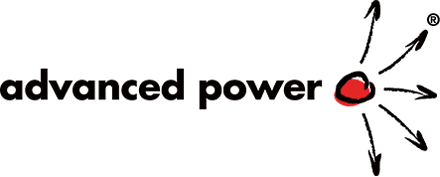 is a trademark of Advanced Power AG. You may not make use of this trademark without our prior written consent. You may not link to this site (including links to any materials provided on this web site) without the express permission of Advanced Power.
What law governs this web site?
Your use of this website and downloads from it, and the operation of these terms and conditions, shall be governed in accordance with the laws of England and Wales. The English courts shall have exclusive jurisdiction over any dispute arising out of your use of this web site. If any term or any part of the terms contained in these terms and conditions is determined by any competent authority to be invalid, unlawful or unenforceable to any extent, such term shall to that extent be severed from the remaining terms which shall continue to be valid and enforceable to the fullest extent permitted by law.
Amendments to these terms and conditions
From time to time, we may change the terms and conditions applicable to this website. By using the website, you acknowledge that you have accepted any such changes.