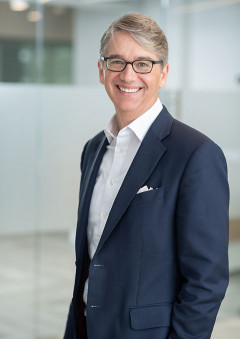 Tom Spang's talent for delivering successful modern power projects has permeated his 30-year career and significantly increased Advanced Power's value since he became CEO in 2014. He is an Executive Board Member, a member of the Senior Management Committee, and a founding shareholder who helped establish the company's European success, then led its expansion to the U.S.
Mr. Spang's experience in the development, financing, investment, and management of advanced electric generating facilities was tapped in 2021 to complement the Board of Directors at One Energy, a leader in behind-the-meter industrial decarbonization. Mr. Spang joined former FERC Chair Jon Wellinghoff and other forward-thinking energy and manufacturing experts.
Before co-founding Advanced Power, Mr. Spang was vice president and head of UK development for InterGen in Edinburgh and London. There, he led the development and financing of the successful 860 MW Spalding project – a combined-cycle natural gas facility placed in service during 2002 to further the displacement of coal for power production.
Mr. Spang was also vice president of asset management for InterGen in Boston, where he successfully restructured the organization's insurance programs, delivering significant savings. Prior to joining InterGen, Mr. Spang was a developer for J. Makowski Company, the Boston-based company that premiered independent, large-scale power plants in the U.S. Mr. Spang engaged in the development of projects in the U.S., Canada, the Netherlands, Germany, Portugal, and Spain.
Mr. Spang has a BA in economics from Hobart College in New York and is father to an adult son and daughter. An avid skier, he lives in the greater Boston area with his wife of 25 years, Betsy.